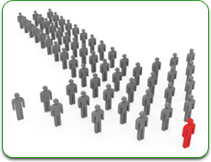 Karan Infotech focuses on providing high performance software services and solutions at optimized price points using our offshore delivery center.Our model empowers the relationship with the customers, by using the technical expertise of the innovative environment driven by strong quality processes,open communication, and a value ecosystem.

We are a customer-centric company. Our vision is to deliver the high-value technology solutions that help our customers achieve their business goals. We form long lasting partnerships with customers through repeated successful delivery.

We have a strong commitment to the success of our customers.We know our customers,and our daily goals are aligned behind making them successful. The top management is directly involved on the quality, productivity,punctuality and confidentiality of the projects handled. This ensures a very high level of customer satisfaction and unbeatable prices.

We understand the importance of cash flow for small-medium enterprise have achieved some content regarding Managing Cash Flow Using Personal Loan

Our commitment to quality & timelines has helped us to gain advantage over our competitors and goodwill among our clients. At Karan Infotech, we bring together technologies, partnerships, and resources to provide positive blend for IT investments.Our Quality certifications help us support clients with business process capabilities and efficient delivery methods.

For a successful project IT service partner, engage with us for all your IT needs. Let us take you through the successful journey.